So you've been told you need to stick to a low FODMAP diet, now what?
Well, essentially, this means eliminating foods with high contents of FODMAPs from your diet (Not sure what these are? Check out this blog post!). There is a whole long (and delicious) list of these high-FODMAP foods for you to avoid but fear not. Eliminating high-FODMAP foods from your diet does not mean it needs to be bland or flavourless.
I'll tell you why — FODMAP swaps and re-integrating of foods!
Low FODMAP Swaps
Low-FODMAP swaps are one of the simple but effective strategies you can use to minimize your high-FODMAP intake and alleviate unpleasant symptoms. There are many low FODMAP alternatives available including, fruits, vegetables, seasonings, sweeteners, dairy products, bread and candies to keep your diet delicious and cravings satisfied.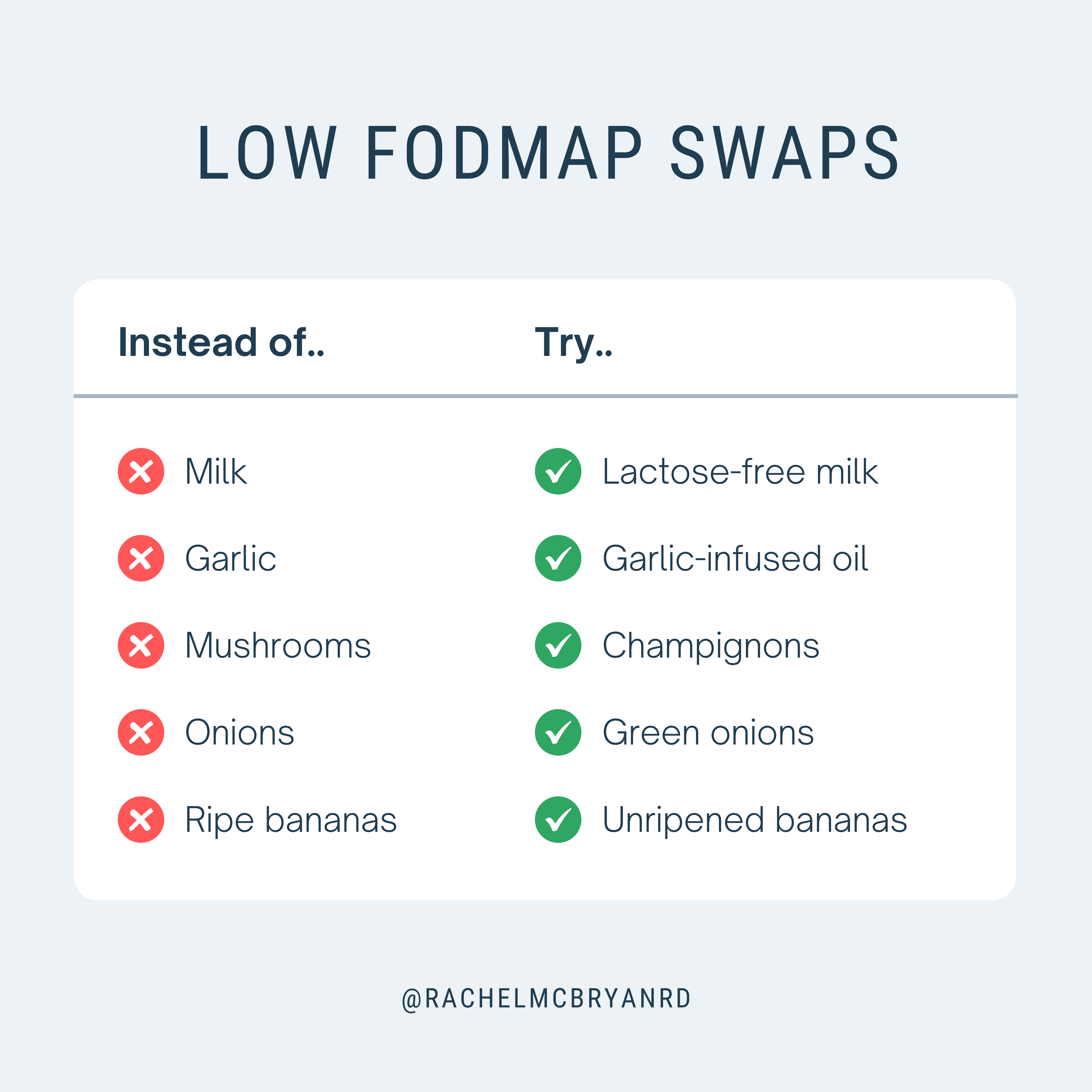 Eliminating & Re-Integrating Foods in the Low FODMAP Diet
The low FODMAP diet is not meant to be this long-term, restrictive diet. The diet was designed to remove all of the possible triggers from our diet and allow our bodies to heal before slowly starting to re-introduce these foods and identify you unique triggers.
In the first stage of the diet, we eliminate all high FODMAP foodsfrom our diet. This includes mushrooms, honey, broccoli. All of it. You do this to remove all the potential triggers and aggravators of a condition (whether it's IBS, Crohn's, Colitis or SIBO) and allow inflammation to reduce.
Once all the triggers are removed from your diet, inflammation subsides and allows your GI tract begins to heal. You can then start to slowly reintroduce foods into you diet. This doesn't mean you just adding back all the eliminated foods. You need to slowly re-introduce high FODMAP foods, one at a time, into our diet while also keeping a food journal to track nutrient intake and associated symptoms.
Reintegrating FODMAPs
Re-integrating high FODMAP foods into our diet isn't a linear process. As different high FODMAP foods are re-introduced to our diet, they may aggravate GI conditions or trigger flare-ups of symptoms. Re-introduction of foods is a unique process for each person and occurs at different paces.
The Takeaway
All of this to say, the low FODMAP diet is a short-term diet allowing your inflammation to subside and help you identify what foods trigger your symptoms. Once your triggers are identified, we can easily substitute low FODMAP alternatives to eliminate the high FODMAP triggers from your diet.
Managing the low FODMAP diet can be overwhelming and even frustrating at times. As I mentioned earlier, FODMAPs can be found in a wide variety of foods and ingredients, triggering your symptoms when you least expect them. With the help of a Registered Dietitian, you will be armed with the knowledge and support you need to be confident in identifying high FODMAP foods and ingredients. As a Registered Dietitian, I will work with you to eliminate high FODMAP foods from your diet and safely identify your personal triggers.
Have more questions? Book a FREE discovery call today and find some answers!
Ready to get started on eliminating your triggers and personalizing your nutrition? For a limited time, enrol in my WISE Eats Accountability Plus program today and receive the summer discount! This program includes FREE, unlimited text support in addition to nutrient analysis and regular appointments.
Talk to a Registered Deititian
Ready to boost your health with personalized nutrition recommendations? Book a FREE discovery call to get started!